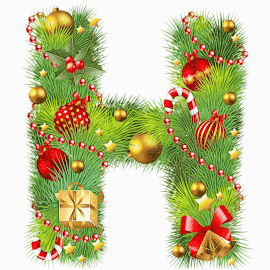 Between overconsumption and an influx of waste, the holiday season can be especially hard on the environment. Why not do your best to be eco-friendly, sustainable and conscientious this year? Here are our suggestions for decking the halls without draining the earth.
Christmas Tree Options
Artificial Christmas trees often end up in landfills, where they'll stay for centuries due to their high plastic content. If you already own a plastic tree, by all means keep reusing it from year to year! If you're seeking a new, sustainable tree option, follow one of these steps for recycling an artificial tree, then read on.
Live trees are a more sustainable pine option because they biodegrade. If you're a coniferous traditionalist, look no further than your locally owned tree-farm. Bonus points for the fresh smell!
If you're not comfortable with the maintenance of a live Christmas tree, consider DIY'ing your display:
Book Tree
A book tree can be constructed from what you already own. Just clear your shelves and get stacking! It's both a clever Christmas hack and a lovely way to show off some of your most beloved books.
Ladder Tree
Speaking of what you already own - grab your ladder and get festive. Wrapping it with twine, garland and lights makes it easy to hang ornaments. You can even create displays on the steps.
Branch Tree
A Christmas tree made from branches is a natural and beautiful alternative - and virtually free to make. Source several branches in different sizes from the outside world, grab some rope and get creative! Collective Gen has a great tutorial to guide you.
Ornaments and Other Tree Decorations
Now that you have a tree squared away, let's talk ornaments! Thrifting and shopping vintage are both great options, but natural homemade ornaments are just as beautiful (and a lot of fun!).
Dried Fruit Ornaments
Dehydrating fruits like pears, oranges, grapefruits yields exquisite results. Simply slice the fruits, arrange them in a flat layer on a baking sheet, and dry them in the oven (or in the sun, if it's around where you live!).
Sharon Glasgow provides more detailed instructions and uses a decoupage finish. And check out Impactforgood's tips for gorgeous oranges here!
String them up with compostable twine, and voila!
Gingerbread/Cinnamon Dough Ornaments
What's more classically festive than gingerbread? These classic cookie shapes make for adorable tree adornments and they're easy to make from just two or three ingredients.
This recipe by Wholefully couldn't be easier. Simply combine cinnamon, applesauce and optional craft glue to create a dough, roll it flat, and use cookie cutters to cut out shapes. Make sure to cut a hole for twine before baking! They used glitter glue and puff paint to decorate, but these forever-cookies are just as cute as is.
Salt Dough Ornaments
Add some variation to your dough game with salt dough ornaments! The high salt content keeps the dough from molding, making these ornaments storable for years to come. We love that Planted in the Woods' recipe incorporates essential oils for some extra aromatherapy. Check out their how-to here!
Twigs, Pinecones and Other Findings
Take another page from Planted in the Woods and incorporate natural findings like pinecones, twigs and tree clippings. Glue them into your desired shapes, wrap them with twine, and hang 'em up!
Popcorn and Cranberry Garlands
Any of the above ornament-making methods could easily become great garlands. But if you're seeking more variation, popcorn and cranberry garlands are Christmas classics.
Using a strong needle and heavy duty sewing thread (or dental floss), thread kernels of popcorn and whole cranberries together in your desired design. Once it's done being decorative, unstring for composting or bird treats!
Check out more detailed instructions from Homesteading.
Gift Wrapping
Gift wrap can quickly become the most unsustainable part of your holiday. The good news is, a lot of commercial wrapping paper can be recycled. The bad news? This wrapping paper often comes shrink wrapped in plastic!
Consider these alternatives to wasteful wrapping supplies with high plastic content:
Newspaper and Other Paper Scrap
Put mailer ads and news print to good reuse by using them to wrap your gifts. Other paper scrap you may have lying around - discarded homework, damaged books, paper grocery bags - could make for fun repurposed wrapping material. Tie a twine bow around your parcel, and you have something attractively crafty for under the tree. Be sure to use paper tape and recycle your wrapping.
Fabric
Reusable fabric wrap is not just sustainable, but a lovely and special-looking way to wrap a gift! Plus, the bow is built-in. Based in the tradition of Japanese furoshiki, fabric wrapping can be reused over and over again. Japan's Ministry of the Environment provides this helpful wrapping how-to graphic here, to ensure your parcels come out perfect.
Wellness Mama gives instructions on how to create your own wraps here or you can purchase The Eco Warrior's soft linen gift wraps from their shop.
Bows, Tags, and Toppers
We highly recommend using natural jute twine for your bows. Not only is it earth-friendly, but it provides a classy, retro look to your wrapping. If you want a little more pop, any of the ornament suggestions above would look adorable on a package. Create tags out of paper scrap, like leftover newspaper, attach with twine or paper tape, and you have a sustainably wrapped present!
---
Tiny steps can make a big difference when it comes to being sustainable. Remember to reuse what you can, when you can, and have a happy, more eco-friendly holiday!
For more decorating inspiration, check out our Pinterest page.
Need some green gift ideas? Our sustainable gift list has you covered!